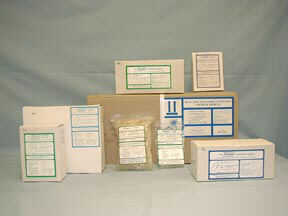 Retail Packed Capsules: each brown outer case contains
10 boxes (or bags) of 100 capsules of one size
Now Available: bovine-free gelatin capsules in veterinary sizes.
We are actively seeking Distributors outside the USA.
Capsules are used by Veterinarians, Ranchers & Farmers as a dosing & dispensing aid. Capsules should be in your product line, if you distribute: equipment such as balling guns, syringes, or supplies such as bulk medicinals or nutritionals in powder or liquid form.
For more information on how veterinarians use our capsules, please follow the Veterinarian Use link.
U.S. & Canadian Distributors:
Ethical (sales to Veterinarians): a majority of the AVDA members including Butler, Buck, CDMV, Professional Vet. Products, et. al.

Lay or Direct (sales to Farmers/Ranchers): Walco, Great Plains, Lextron, Omaha Vaccine, Jeffers Vet Supply.

If you would like to be a distributor, please contact us.
Free Sales Aids To Introduce/Promote Capsules: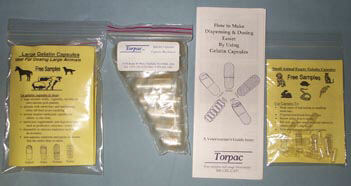 Sales aids including sample kits are available for distribution to veterinarians.
Product Label:
Sample label from a retail box of Torpac capsules. Available in your language.
Packaging:
See photograph at top of this page. Large size capsules (Su07-13) are packed in white boxes of 100 and small size capsules (Size 000-5) are packed in clear plastic bags of 100. Outer packaging is brown corrugated boxes containing 10 boxes (or bags) of one capsule size.
Continue Quick Tour with Veterinarian Use.