ProFill Testimonials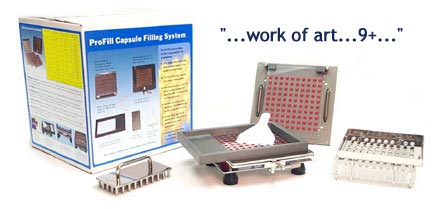 "The ProFill is a work of art.
We're impressed with the packaging and your service. Thank you.
We rate you and your organization a 9+."

"Your ProFill System is so easy to use and it is very fast too! We really like this new machine."
Lucy L. – Redox Functional Medicine Laboratory
"We are writing to tell you of our immense satisfaction with the ProFill System. We make 10,000 capsules a day for our websites and the ProFill System has greatly improved our production time. Thanks!"
Perry B. - AMI Inc.
"After several months of using the ProFill system, we are very pleased with it. We would recommend this to anyone."
Jim & LaRonda – Baker Express Pharmacy
"Thank You! I have been using my ProFill capsule machine for 6 months now and am truly pleased with its performance. It is efficient and user friendly. "
Sylvie M. – Health for Life
"With inexperienced operators, we achieved 1500-2000 capsules per hour. We are very happy with the ProFill and strongly recommend it for start up manufacturing and/or marketing tests. We have the option of paralleling two or three ProFills as a low cost solution for doubling or tripling our production."
Humberto Z.– Mercatus International Corp.
"We cut our production time by 60%. Not only will this allow us to double our production, but it will also allow us to pass on the savings to our customers, which we believe, will lead to more sales. Thank You."
Samual R. – Chi Institute