Ideal for filling multiple capsules at one time when fill weights can be within +/- 7 to 10% of average (e.g. pharmokinetic studies)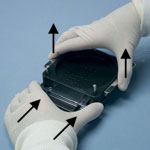 1.
Pull gloves tight around fingertips for easier capsule handling.
2.
Lift the Capsule Holder using the 2 handles and push both Spacer Plates all the way in and under the capsule holder.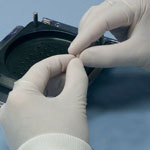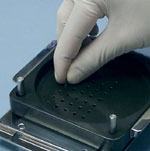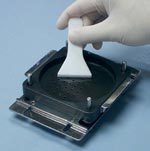 3.
Separate capsules one at a time and place caps in a shallow container such as a Petri dish.
4.
Place the capsule body (longer, bottom half) into the Capsule Holder with the body opening facing up.

Do this for all 40 capsules.
5.
When all the holes have capsule bodies in them, pour out a pre-measured quantity of powder.

Spread the powder with the Spreader.

Push the excess powder to the Pocket.
6.
Use the Tamper to pack powder into capsules.

Spread remaining powder as in step 5 for proper fill weight.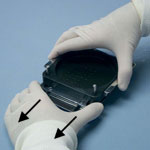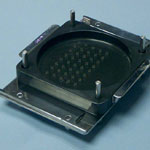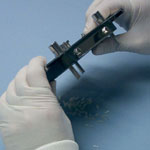 7.
Slowly pull out the Spacer Plates one at a time.

Hold Capsule Holder with both Handles as you pull out each Spacer Plate and then gently let it down.
8.
Now the tops of the filled capsule bodies are exposed.
9.
Place the top caps of the capsules back onto the bottoms, pressing to fully lock each capsule.
10.
After all capsules are joined; turn the entire filler upside-down to remove all filled capsules.