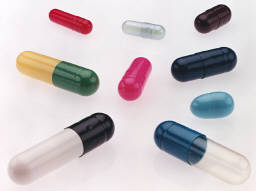 Colored Capsules

Ideal for Improved Identification of Dose Groups & Photosensitive Compounds.

Colored capsules have been specially formulated using colorants that are widely approved throughout the world to ensure your study is accepted by international registration authorities.

Uniquely Identify up to 10 Different dose groups: Colored capsules are available in three standard colors (pink, white, blue) and combined with our standard clear capsules can be used to uniquely identify up to 10 different dosage groups. For example, you can use capsules that are all white, have a white cap and clear body and have a clear cap and white body to make three groups. Thus, the three standard colors can be used to prepare 9 groups and with our standard clear capsule you can make 10 uniquely identified groups.

Protect Test Compounds from Ambient Light: Colored capsules are made opaque by the addition of titanium dioxide, an opacifier with excellent light blocking properties and approved throughout the world. Colored capsules are an additional barrier against light exposure during storage and especially during handling and dosing.

For free samples of colored capsules please e-mail us.

Minimum Order: 25,000 capsules per color *.

Cost: $20 / 1000 capsules additional for veterinary sizes.

Delivery Time: Maximum 8 weeks.

*

If you need a smaller quantity and we have it available, we can waive minimum order.

Customer References For Colored Capsules: Bristol Myers Squibb USA, RCC Switzerland, Roma Toxicology Center Italy, Carter Wallace USA.
Capsule Color

Blue

Pink

White

Torpac Color #

BL38

PK2

WH

Dye Content % of Capsule Weight

Colorant Approved in USA, EU, Japan**

EEC (EU) Dye No.

FDA Dye No.

Titanium Dioxide wt%

1.00

0.67

2.10

Yes

EEC-171

Pigment White 6

Indigotine wt%

0.20

nil

nil

Yes

EEC-131

FD & C Blue 2

Erythrosine wt%

nil

0.12

nil

Yes

EEC-127

FD & C Red 3

Total Colorant Content

wt. %

1.20

0.79

2.10

** For a full list of countries contact us.
| | |
| --- | --- |
| Capsule Size | Capsule Total Wt. gms. (Avg. of 100) |
| Size 11 | 1.25 |
| Size 12 | 0.73 |
| Size 13 | 0.58 |